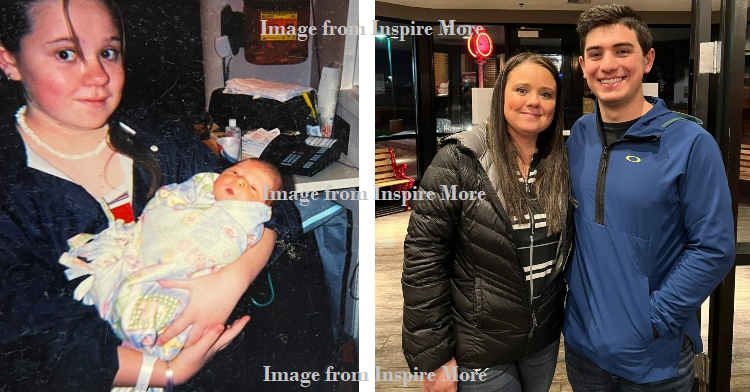 "Joy Just Overflowed Me." Adopted Man Finds Out Birth Mother Works In Same Building.
Adopted Man Finds Out Birth Mother Works In Same Building
2022/06/08 [Inspire More]
"Joy Just Overflowed Me." Adopted Man Finds Out Birth Mother Works In Same Building.
For the past 20 years, Brian Hulleberg has wondered what became of his birth mother.
Brian's adoptive parents were open and honest about his adoption, yet he never had any contact with the woman who gave him life. All he knew was that her name was Holly, and she was only 15 when she made the difficult choice to give him up.
Angela and Brian Hulleberg provided Benjamin with a loving family and a good life. He is now 20 years old and works as a middle school substitute teacher. In his off time, he volunteers in the NICU department at St. Mark's Hospital in Salt Lake City, Utah. Unbeknownst to him, his birth mother Holly Shearer works in the same hospital as a medical assistant in the Heart Center. Over the years, there's no doubt that their paths crossed, but neither knew they were related.
Holly is now 35 years old and has a family of her own, but she never stopped thinking about the baby she gave up for adoption 2 decades earlier.
"
He was always on my mind," she recalled. "More so on holidays and his birthday, roller coaster of emotions. I thought about him all the time."
When Ben turned 18, Holly did some internet sleuthing and found his Facebook page. She was thrilled to see that he was doing so well with his life, but she didn't want to get in touch out of fear she'd "throw a wrench in his life." She kept an eye on him from afar for the next two years.
Meanwhile, Ben had been searching for Holly, too. He took a DNA test hoping to find a connection to her, and he signed up with an adoption registry. It wasn't until his 20th birthday that Holly finally took the plunge and sent her son a message on Facebook.
"
When she texted me back and she actually explained who she was, it hit me like a load of bricks," Ben said. "I was crying. It was all very positive emotions, but to me, this is a day I had been waiting for the past 20 years of my life and to imagine that it was finally happening was outrageous. It was a lot to take in."
To Holly's surprise, Ben was eager to meet up in person. They arranged to get together with his adoptive parents and her family the very next day.
"
I was not willing to wait any longer," Ben said. "I'd waited 20 years and that was long enough for me."
Holly says "joy just overflowed me" when they met. They hugged and cried together for ages, both in complete disbelief that they'd finally found each other again.
"
When I saw her, she stood up and she gave me a hug and I cried," Ben remembered. "I just looked at her and I was like, 'You're real, like you're in front of me.' And it was surreal."
Ben said it was a "dream come true" to finally meet Holly. They were blown away to discover they'd been working closely together for years without ever knowing it.
"
Every morning, I would come in through the women's pavilion to come into work," said Holly. "So I passed right by the NICU every single day. We parked in the same garage, could have been on the same floor, had no idea that we were so close."
Holly and Ben are now getting to know each other and their families. Ben hopes other adoptees will hear his story and never give up on their hope of finding their birth parents. He says the experience has been "very healing," and it filled a hole in his life he didn't even realize was there.